Tue 15 Feb, 2022
The construction of The Shakespeare North Playhouse in Prescot has reached another momentous milestone as the brickwork on the building comes to an end.
Construction of the theatre started in February 2020 and despite the impact of COVID-19, work on site has continued to successfully progress throughout the pandemic.
The striking building has risen out of the ground and is now a prominent landmark within Prescot and further afield. To mark this milestone in progress, Liverpool City Region Metro Mayor, Steve Rotheram was invited to lay some of the final brickwork.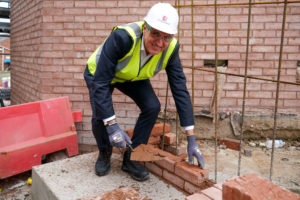 Steve began his career as an apprentice bricklayer and has visited The Playhouse site on many occasions during its development.
Mayor Steve Rotherham said "It was great to be able to dust off my trowel and lay some of the final bricks at the magnificent Shakespeare North Playhouse. Our region is the country's cultural capital, and the new playhouse will give people from across the UK and further afield another fantastic reason to come and visit. It's going to be a brilliant resource for the local community, especially budding actors and local schoolchildren. I know that it will play a big role in Knowsley's year as our Borough of Culture in 2022."
Mayor Rotheram was joined on site by Knowsley Council Leader, Graham Morgan and Melanie Lewis, the new Chief Executive of the Shakespeare North Playhouse who also took part in the final bricklaying.
Melanie said: "The Shakespeare North Playhouse will be such an exciting cultural attraction for Prescot and the Liverpool City Region and I am thrilled to be involved in marking this milestone. To play a small part in the construction of the building is a real honour and to know that this time next year we will have performances and so much more happening inside the building, is so exciting."
Councillor Graham Morgan added: "Once again, I am amazed to see how much progress has been made since my last visit. Each milestone on this development brings us one step closer to opening the doors of The Shakespeare North Playhouse. It makes me so proud to know that we will soon be welcoming the people of Prescot, Knowsley and beyond to be a part of this wonderful theatre."