On Your Bike! Wheels For All cycle their way to Shakespeare North Playhouse to promote upcoming production A Play for The Living in a Time Of Extinction
Fri 5 May, 2023
National accessible cycling charity Wheels For All hopped on their bikes this morning and rode to Shakespeare North Playhouse to celebrate and promote their participation in the upcoming production A Play for The Living in a Time of Extinction (16th-20th May).
21 members from Wheels for All completed an 8-mile bike ride, travelling from Westvale in Kirkby to Shakespeare North Playhouse. Clad in a colourful array of eye-catching neon lycra, the group journeyed to Shakespeare North Playhouse, bringing a smile to Prescot residents and theatre goers alike on their way.
The charity will be participating in the upcoming touring production A Play for The Living in A Time Of Extinction which will be performed at Shakespeare North Playhouse later this month 16th-20th May. A group of 20 local cyclists will take to the stage and cycle throughout the shows, generating all of the energy needed to power each performance.
Wheels for All is a national accessible cycling charity which promotes inclusive cycling through a range of successful community engagement programmes that give people the opportunity to cycle on a regular basis; through help, support and guidance.
Previously operating under the name of Cycling Projects, Wheels For All has supported the creation of accessible cycling centres for decades and has either continued to run them (with 27 centres of its own) or provided assistance, insights, or resources for many independent centres to continue to provide local accessible cycling.
Programme Manager, Nancy Wayne, from Wheels For All Knowsley, says 'I joined Wheels For All 12 years ago as a rider when I was going through a really tough time. My sister was terminally ill, and I needed an outlet. I started riding and just fell in love because it was my opportunity to just escape from everything and switch off.'
'If anyone is interested in joining Wheels For All just come and do it! The impact is huge both mentally and physically. It's social and everyone welcomes you with open arms and supports your progress. It's for anybody and everybody.'
Dave Carson, a rider who will be cycling in A Play for The Living in a Time Of Extinction, has been a long-time volunteer for Wheels For All. Speaking about the charity Dave says 'You get all the back up you need you train properly and there's always people you can talk to. Some of the people come with physiotherapists or carers and we're an aid. It's so easy to get involved and you get so much out of it. We just need more people!'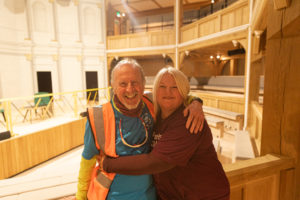 Directed by Nathan Powell, A Play for The Living in a Time Of Extinction, is a bold experiment in eco-theatre making. Co-produced by the Barbican and Headlong, this production is an exploration of how touring theatre can be made more sustainably.
This innovative one woman show takes us on a life-changing journey to confront the urgent ecological disaster that is unfolding around us. Part ritual, part battle cry, and powered entirely using 4 bicycles that will be set up on the Cockpit Theatre stage, this fiercely feminist off-grid production is a moving exploration of what it means to be human in an era of man-made extinction.
Shareesa Valentine will take on the lead role of Naomi in this ground-breaking production when it arrives at Shakespeare North Playhouse May 16th-20th. Shareesa is a Manchester based actress, nominated for best female actress in 2022 at the Black British Theatre Awards.
A Play for The Living in a Time of Extinction will be staged at Shakespeare North Playhouse 16th-20th of May.
Tickets can be bought on the Shakespeare North Playhouse website: http://bitly.ws/DUdV
Tickets can also be bought in the Shakespeare North Playhouse Shop or by phoning the ticket line on 0151 433 7156.
Further information about who Wheels For All are and how you can get involved can be found on their website: https://wheelsforall.org.uk/